BFTB-WX (Bolt From The Blue Weather)
Created by Harsha Email: cricketfan728@sify.com
Finally a FREE program has been developed that allows you to plot Skew-Ts, along with giving you all of the useful information such as LIs, CAPE, SRH, EHI, SWEAT, TTs and more!!!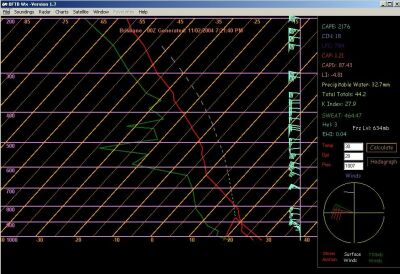 The features include:
- Downloads the latest Skew-T, and calculates the plotted sounding, but then gives you the options to adjust the temperature and dewpoint to obtain a better representation of the afternoon sounding!
- Downloads past Skew-Ts, so you can go back and play around with Skew-Ts from your favourite storm days!
- Allows you to create your own Skew-T, or modify an existing one...perfect for those dynamic days where the upper level temperatures are rapidly changing, as you can adjust them to suit the convective time you're looking at!
- Everytime you plot a sounding, it recalculates all of the indicies!
- Even has a 3D-hodograph to help you better conceptualise the wind pattern.
- Will calculate mean storm speed and direction from the winds - again you can change the winds, so you ultimately have full control over everything!
- Also will access radar, satellite images, analysis and forecast charts - all in the one program! Just make sure you're connected to the internet when you're using the program.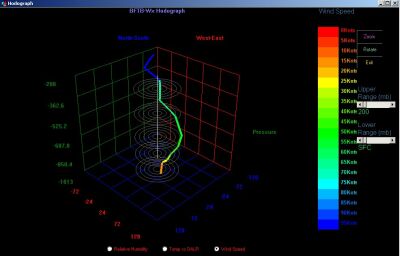 To download the program, click here.
If you have any suggestions or comments, please contact the owner of this program, Harsha
To view instructions (and see more screen shots), click here.
You may find this guide useful in understanding how to forecast storms with Skew-Ts and this program.